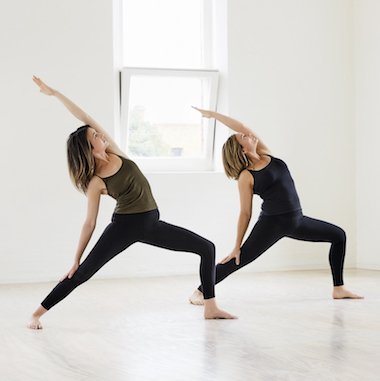 Flow
07.08.2018
Flow is a dynamic floor practice balancing structure and stability with breath and movement. Explore a flowing physical practice with an emphasis on yogic breathing and mindful action in transition and postures. Leave feeling balanced and calm. Includes pranayama and meditation practices. Suitable for those with a regular yoga practice. Newer students are encouraged to inform teachers and work at their own pace in this class.
Aerial Intro
07.08.2018
A pre-requisite to aerial flow, this class will build your confidence and understanding of aerial yoga as we extensively move through the basics, including silk placement and posture, at an easy to follow pace. This class is suitable for all levels but not suitable for pregnant students.
Aerial Flow
07.08.2018
Experience deeper stretching, myo-fascial release and strengthening across the entire body using silks to support the body and aerial yoga asana. Develop challenging transitions and strength based inversion and arm balance asana as you refine an aerial yoga practice. This class is suitable for those with a competent flow practice, prior aerial experience, or those that have confidently completed an aerial intro class. 
Please note the silks create strong sensation and a minimum of 1 aerial intro class is recommended. This class is not suitable for pregnant students.
Aerial Restore
07.08.2018
A relaxing class involving deep release to support your physical, emotional and mental wellbeing. Silks are utilised low to the ground for support. Pranayama and meditation are incorporated. This class also improves joint mobility, flexibility and activation of muscles post training, injury and high stress times. Suitable for all levels.
Restore
19.09.2018
A blend of slow flowing, restorative and yin based posture work. Meditation and pranayama breath practices are included in every class. This class uses props to support and encourage physical release and mental relaxation leaving you feeling light and rejuvenated. Suitable for beginners and those looking for a slower paced practice.
Aerial deep release
Slow held postures in the silks. Perfect for traction therapy and deep stretch. Breath and relaxation are key to this space creating practice style.